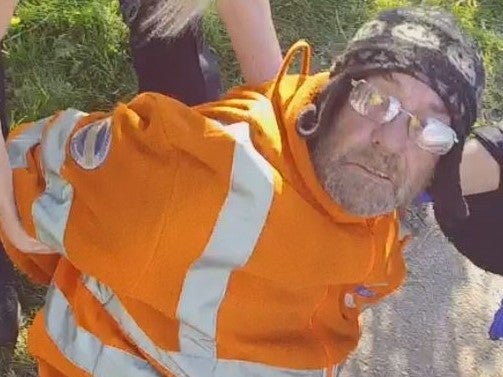 A man who claimed to have been infected with coronavirus before coughing on police has been jailed for 16 weeks.
Christopher McKendrick was detained on Thursday afternoon after officers were called to reports of someone being abusive and threatening in South Derbyshire, and found him waving a piece of wood "in a threatening manner", police said.
When police asked if he had the virus, he replied: "I've already had it, I've got over it and now I am a super-spreader."
The 58-year-old from Swarkestone then coughed in the direction of three officers, Derbyshire Constabulary said.
He pleaded guilty to a number of charges on 3 April at Southern Derbyshire Magistrates' Court, including common assault and using threatening, abusive, insulting words or behaviour to cause harassment, alarm or distress.
He has been given a 16-week prison sentence and ordered to pay a victim surcharge of £122.
In London and Northumbria, people have also been jailed after coughing on officers and claiming to have the virus.
Michael Gray was sentenced to 19 weeks in prison on Friday after he admitted assaulting an emergency services worker and using threatening words and behaviour following an incident in Brixton in the early hours of Thursday.
The 41-year-old was found to be wanted on a warrant for failing to appear at Croydon Magistrates' Court. On his arrest, Gray, of Ingatestone Road in London, intentionally coughed towards the officers and threatened to spit at them while in custody.
He said he hoped to infect them with Covid-19 so that they would pass it on to their children.
At a hearing before Croydon magistrates, Gray was given eight weeks for the assault on police officers and 11 weeks for a separate drug driving offence, as well as a £100 fine for the public order offence.
Northumbria Police said on Tuesday two men had been jailed after telling police they had coronavirus and coughing over them.
No hype, just the advice and analysis you need
Daniel Taylor, aged 34, claimed he had Covid-19 before coughing over police while in custody on Friday, while Marc Punton spat and coughed at an officer during an arrest for being drunk and disorderly on Saturday.
Both men were charged with assault of an emergency worker and pleaded guilty when they appeared before magistrates on Monday.
Punton, of Affleck Street in Gateshead, has been jailed for 36 weeks while Taylor, of Helena Avenue in Whitley Bay, received a 26-week sentence.
Chief Superintendent Neil Hutchison said: "The officers, staff and volunteers who proudly pull on their Northumbria Police uniform every day do it because they want to keep people safe, and this type of behaviour is completely unacceptable.
"I hope the custodial sentences handed down by the judge underline how seriously offences of this nature are taken by the criminal justice system."
Thieves have also been targeting hospitals as they battle the coronavirus outbreak, which has infected more than 55,000 people in the UK as of Tuesday.
In London, a 34-year-old man was jailed on Tuesday for stealing four face masks from King's College Hospital.
Lerun Hussain was caught with the masks after taking them from a crash trolley in Lambeth on Sunday.
He pleaded guilty to theft at Croydon Magistrates' Court and has been handed a 12-week sentence, the Crown Prosecution Service said.
A theft has also happened at a Worcester hospital, with an investigation launched after car parts were stolen from NHS staff.
West Mercia Police said catalytic converter thieves targeted the Worcester Royal Hospital on Sunday at around 12pm.
Officers were called after a member of staff noticed a strange noise coming from their car following their shift — with a colleague nearby reporting the same thing.
The force said they would be increasing patrols in the area after the "disappointing" thefts.
Press Association contributed to this report