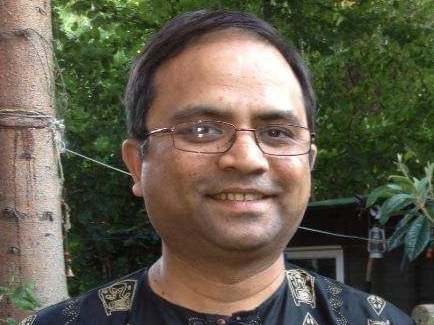 A doctor who died of coronavirus after warning Boris Johnson about a lack of protective equipment was a "kind and compassionate hero", his son has said.
Abdul Mabud Chowdhury, a consultant urologist at Homerton Hospital in east London, urged the prime minister to ensure every NHS worker was protected in a direct plea on Facebook last month.
Following the 53-year-old's death on Wednesday, his son Intisar said he was glad that the issue was now getting the attention it needed.
"It pains me to say that my father is not the first and he is unfortunately not going to be the last NHS frontline worker to die," Intisar Chowdhury told BBC Radio 4's Today programme.
"If there is anything we can do to minimise that from happening as much as possible, that's all we need to do."
Mr Chowdhury added: "He was an amazingly compassionate man. I want everyone to remember him for the kind and compassionate hero he was, because he was a hero.
"I want him to be remembered as a hero, he genuinely is a hero. He started a conversation that I hope does not end for a while – does not end ever."
Referring to the widespread tributes paid to his father on social media, Mr Chowdhury said: "It gave me some hope to know that essentially the whole country is behind him."
Dr Chaand Nagpaul, chairman of the British Medical Association (BMA), said it was "tragic" that Dr Abdul Mabud Chowdhury had died after issuing a warning about a lack of personal protective equipment (PPE).
"The government has said there are enough stocks and supplies to protect healthcare workers, so what we need to do as of this moment is rectify that and deliver that equipment to the front line," he told BBC Breakfast.
No hype, just the advice and analysis you need
"And make sure that no healthcare worker is knowingly going into a situation caring for an infected patient and putting themselves at risk."
The prime minister, who is currently being treated for Covid-19 at St Thomas' Hospital in London, has faced increasing pressure to ensure PPE is made available to all frontline workers tackling the pandemic.
In his Facebook post on 18 March, Mr Chowdhury said: "People appreciate us and salute us for our rewarding job which are very inspirational but I would like to say we have to protect ourselves and our families/kids in this global disaster/crisis by using appropriate PPE and remedies."
In late March 3,963 doctors penned an open letter saying that they were "putting their lives on the line every day" by working without adequate protection.
Additional reporting by agencies