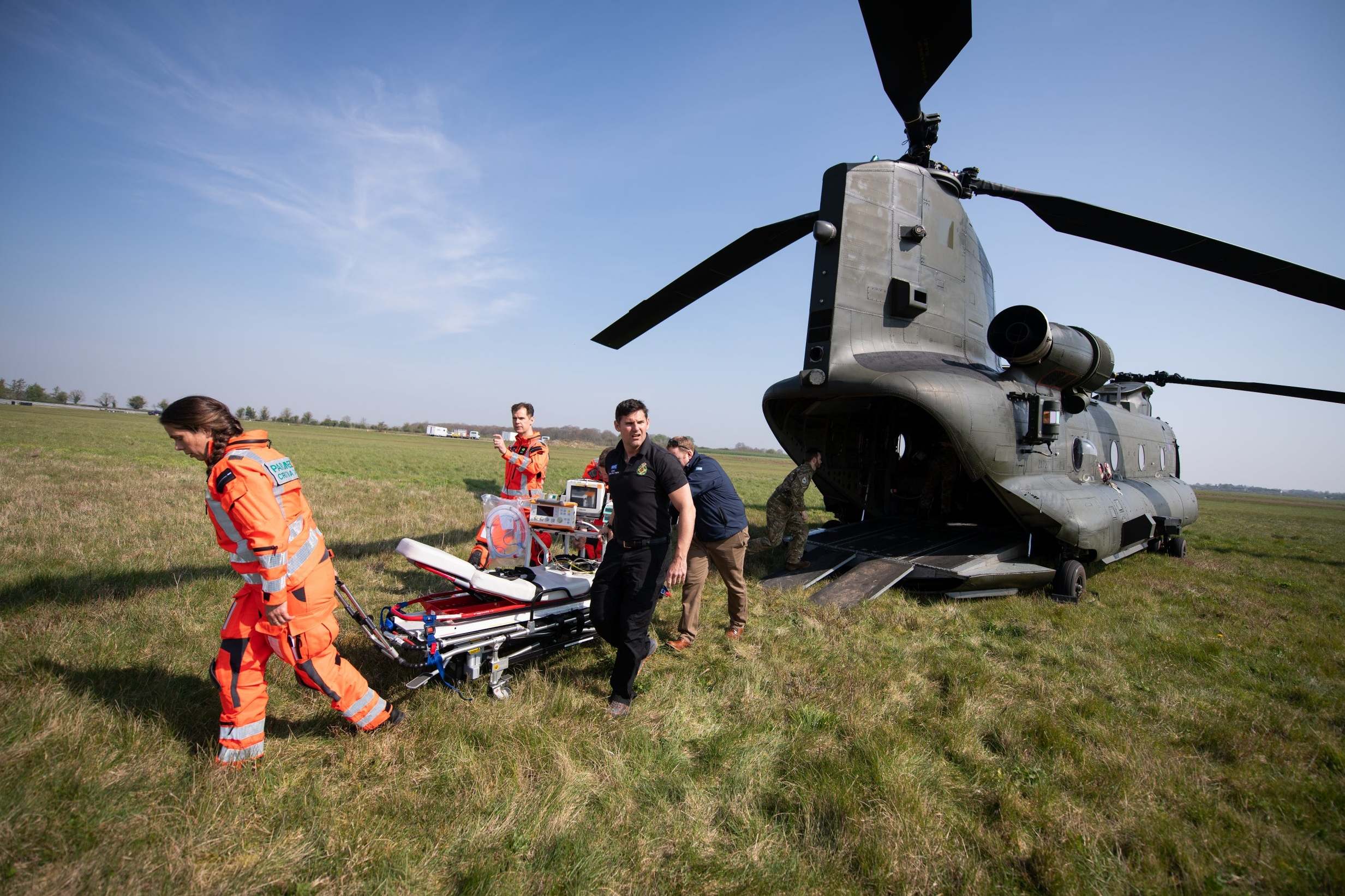 Army, Royal Navy and RAF units are being deployed to provide ambulance services, on the ground and in the air, as part of the military's growing involvement in combatting the coronavirus pandemic.
More than 200 services personnel have been initially deployed to help drive ambulances, provide paramedics and work in response centres across the country.
At the same time 300 members of the forces and 13 military helicopters of the newly set-up Joint Helicopter Aviation Task Force will be operating alongside the NHS to carry out medevac – medical evacuation – of patients.
The deployment comes from the 10,000 strong Covid Support Force who are building nine emergency hospitals, including the 4,000-bed NHS Nightingale at the ExCel Centre in London's Docklands, taking supplies to treatment centres and vulnerable people, and setting up management systems.
The ambulance crews on the ground will be wearing NHS uniforms rather than military fatigues in order to promote teamwork, and also avoid any undue alarm for the public, say Whitehall officials. They have been sent to ambulance services in the home counties, Wales, London, Scotland and eastern England.
Around 80 personnel are working with South Central South Central Ambulance Service (SCAS) in Berkshire, Buckinghamshire, Hampshire, Sussex and Surrey. The service said that the added support would mean up to 30 more ambulances can on the roads each day – an increase of around 10 per cent.
Between 400 and 500 SCAS staff out of a total workforce of 3,300 are in isolation at present, while the numbers of Covid-19 cases are rising. A spokesperson said: "Training has commenced to give emergency driving training so they can drive ambulances as well as PPE training so they know what level they have to wear to different incidents."
More than 60 soldiers will be supporting the Welsh Ambulance Service where up to 20 per cent of staff are in self-isolation.
Many from the military team have experienced combat operations abroad. Sergeant Raymond Richardson, of 14 Signal Regiment, based in Pembrokeshire, has served in Iraq, Afghanistan and Northern Ireland. He said: "To get a task like this, where we are directly supporting the NHS, is a privilege and an honour.
"Sometimes when you're deployed on operations you are away from family and friends, you're not in the UK and you can disassociate yourself with what you are doing and frame it in that environment, then return home and normalise. Going out on this task is exciting but also a makes you a little apprehensive, it'll affect you differently."
No hype, just the advice and analysis you need
Although military aircraft have ferried civilian patients in the past, the Joint Helicopter Aviation Task Force is the first time that a dedicated air unit has been set up to work with health service paramedics in an emergency. The service personnel will be on duty with up to 100 NHS staff in the coming weeks.
Thirteen helicopters – Chinooks, Pumas, Merlins and Wildcats – will be used. They are based in Kinloss Barracks in Moray, Scotland; RAF Odiham in Hampshire; Royal Naval Air Service (RNAS) Yeovilton in Somerset and RNAS Culdrose in Cornwall. In addition an A400M Atlas aircraft, which carries up to 116 passengers, from RAF Brize Norton in Oxfordshire will be put on standby.
The relatively large-sized Chinook will need fields, sports grounds or other open spaces to land near hospitals. One of the aircraft has carried out landing drills at London City airport near NHS Nightingale.
The Pumas, Merlins and Wildcats, with smaller airframes, will be able to land at major trauma hospitals throughout the country with landing pads. The Wildcats will be moving equipment rather than patients and can be use to fly specialist doctors to hospitals and clinics.
Commander Chris Knowles, commanding officer of 820 Navy Air Squadron, had been in the military aid mission to Sierra Leone during the Ebola epidemic as well as seeing service in Iraq. His squadron would normally be based on one of the two aircraft carriers, HMS Queen Elizabeth or HMS Prince of Wales.
"820 Squadron is the carrier squadron, so whenever they sail, we're on there, providing anti-submarine warfare force protection, anti-surface warfare protection," he said.
"The squadron are quite experienced – they deployed in Iraq and Afghanistan and there are crew members who've done this previously in combat. I was in Iraq, in Basra, for a couple of years. We were also involved in Operation Gritrock in 2015 which was the Ebola crisis. So we even have corporate knowledge in moving contagious patients."
Describing his area of operation, from the Culdrose base, Commander Knowles said: "We're covering the southwest, up to Bristol, as far east as far as the Channel Isles, as far west at the Scilly Isles – it's 4.5 million people. There is only one accident and emergency centre in Cornwall, in Truro. The next nearest major hospital is up at Derriford in Plymouth. So there's not a great deal of primary care around. Everywhere else is cottage hospitals. We might be initially moving people out of areas that are difficult to get to – especially the Scilly Isles, places like that – to primary care."
Flt Lt Paul Huyton, of 27 Squadron of Chinooks, said: "Previously when we've done medical-style response, it was in Afghanistan. Very rarely do we get to aid the civil authorities [in the UK]. The challenge is that it's a new arena. Lesson are being learnt, potential pitfalls being discussed. There's a lot of planning for something we didn't really see coming.
"The biggest challenge is protecting ourselves against the disease – working within 2m of potentially infected patients. We've got fairly robust operating procedures – a combination of wearing PPE and a method of ingress and egress for the infected patients. But it's great. It's quite a privilege to be a captain of a crew that does something like this, helping out the civil authorities, making a difference."
The defence secretary, Ben Wallace, said: "Our armed forces always step forward at the appearance of threats to the country and its people. Across the United Kingdom, soldiers, sailors, airmen and women have got the backs of our NHS colleagues as they confront coronavirus."