Retailer introduces one adult per household rule as stock returns to normal levels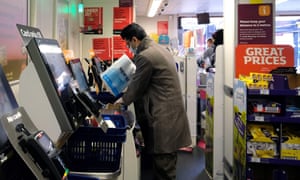 Sainsbury's is banning couples from its stores as part of efforts to enforce social distancing.
The retailer said a one-adult-per-household rule was intended to help keep customers and store workers better protected from the highly contagious coronavirus.
"From today, we are asking everyone to please only send one adult per household to our shops," said the supermarket's chief executive, Mike Coupe, in a letter to customers.
"This helps us keep people a safe distance apart and also helps reduce queues to get into stores. Our store teams will be asking groups with more than one adult to choose one adult to shop and will ask other adults to wait. Children of course are welcome if they are not able to stay at home."
The rule is being introduced as Sainsbury's joined other retailers in loosening purchasing restrictions on most items from Sunday after a wave of panic buying subsided. .
Coupe said supermarket shelves were now full throughout the day.
"Most people are now just buying what they need for themselves and their families. This means we now often have stock on the shelves all day and at the end of the day."
Coupe said limits on the number of items customers could buy would start to be removed and a three Easter egg limit hadbeen scrapped immediately.
Coupe said limits would remain on popular items including UHT milk, pasta and tinned tomatoes.
Earlier this week, supermarkets including Aldi, Lidl, Morrisons and Waitrose announced the relaxation of quantity curbs after a decline in the number of shopping trips as the UK entered its second week of lockdown.
Coupe also said Sainsbury's online grocery service had undergone a significant expansion from offering 370,000 home delivery and click-and-collect slots two weeks ago to 600,000 by the end of next week, with capacity set to grow further.
He said the grocer had offered priority online delivery to more than 450,000 elderly or vulnerable customers.
Tesco
Hours 6am-10pm in larger stores except Sundays.
NHS/elderly NHS workers: 9am-10am Tuesdays and Thursdays, first hour Sunday. Elderly and vulnerable: 9am-10am Monday, Wednesday and Friday (except Express stores)
Delivery 780,000 slots, up from 660,000 slots two weeks ago another 100,000 being added. Has asked shoppers who are able to visit stores to free up slots for vulnerable and elderly.
Limits Three per customer on items including toilet roll, household and personal cleaning products, hand sanitisers, pasta, rice tins, fresh eggs, home baking.
Sainsbury's
Opening hours 8am-8pm except Sundays
NHS/elderly 7:30am-8am Monday – Saturday for NHS/social care workers. 8am–9am every Monday, Wednesday and Friday for elderly.
Priority booking for more than 450,000 elderly/vulnerable customers through call centre or identified via its loyalty card/online account.
Delivery 600,000 slots including click and collect, up from 370,000 two weeks ago. Trialling deliveries by bicycle from closed convenience stores.
Limits Three per customer on UHT milk, pasta and tinned tomatoes.
Asda
Opening hours Generally 8am-8pm
NHS/elderly Delivery slots set aside for customers on government database of most vulnerable. E-gift card to help volunteers shop for elderly/vulnerable.
Delivery 700,000 delivery slots per week, up from 450,000.
Limits Three items on some handwashing and baby milk products
Morrisons
Hours 8am–8pm except Sundays
NHS/elderly NHS/health/social care priority 7am-8am Monday – Saturday, 9am-9:30am Sunday. Employed 500 people from closed charity shops to assist elderly, adding measures to identify vulnerable customers for online delivery slots
Delivery No confirmation on number – thought to be about 100,000 – but up 60% by end of April. £30 food parcels delivered by courier, more slots on Amazon Prime Now.
Limits Maximum two packs toilet roll, soap and hand sanitiser
Co-op
Hours 7am-8pm all stores except petrol stations: 7am-11pm.
NHS/elderly 8am-9am Monday to Saturday, 10am-11am Sundays
Delivery slots Service from about 350 stores using Co-op ebikes or Deliveroo. Hundreds of slots available. Testing out hotline for delivery to elderly in Wales.
Limits two per customer for all products; one box of eggs per shop.
Waitrose
Hours varies around country
NHS/elderly First hour of the day in stores set side every day. Half of all delivery slots taken up by the elderly or vulnerable. NHS workers given priority at tills and hard-to-find and essential products set aside for them.
Delivery Increased delivery slots by 50% on normal levels. Some branches organising deliveries to vulnerable using taxis.
Limits Maximin three grocery items; two packs of toilet roll per shop.
Lidl
Hours 8am-10pm except Sundays.
Delivery beers, wines and spirits.
Limits restrictions for toilet roll only.
Aldi
Hours 8am-8pm except Sundays.
NHS/elderly Sundays 9.30am.
Delivery beers, wines and spirits.
Limits Four per customer on 11 items including antibacterial wipes, soap, bleach, toilet roll, pasta, tinned tomatoes and beans. Two on hand sanitiser, UHT milk, baby formula.
Marks & Spencer
Hours variable.
NHS/elderly First hour Tuesday and Friday for NHS/carers/emergency services. First hour Monday and Thursday for elderly/vulnerable. E-gift card to help volunteers shop for others.
Delivery Online orders if food boxes of 20 essentials and limited products via Deliveroo.
Limits Two per customer on groceries, frozen food and eggs.