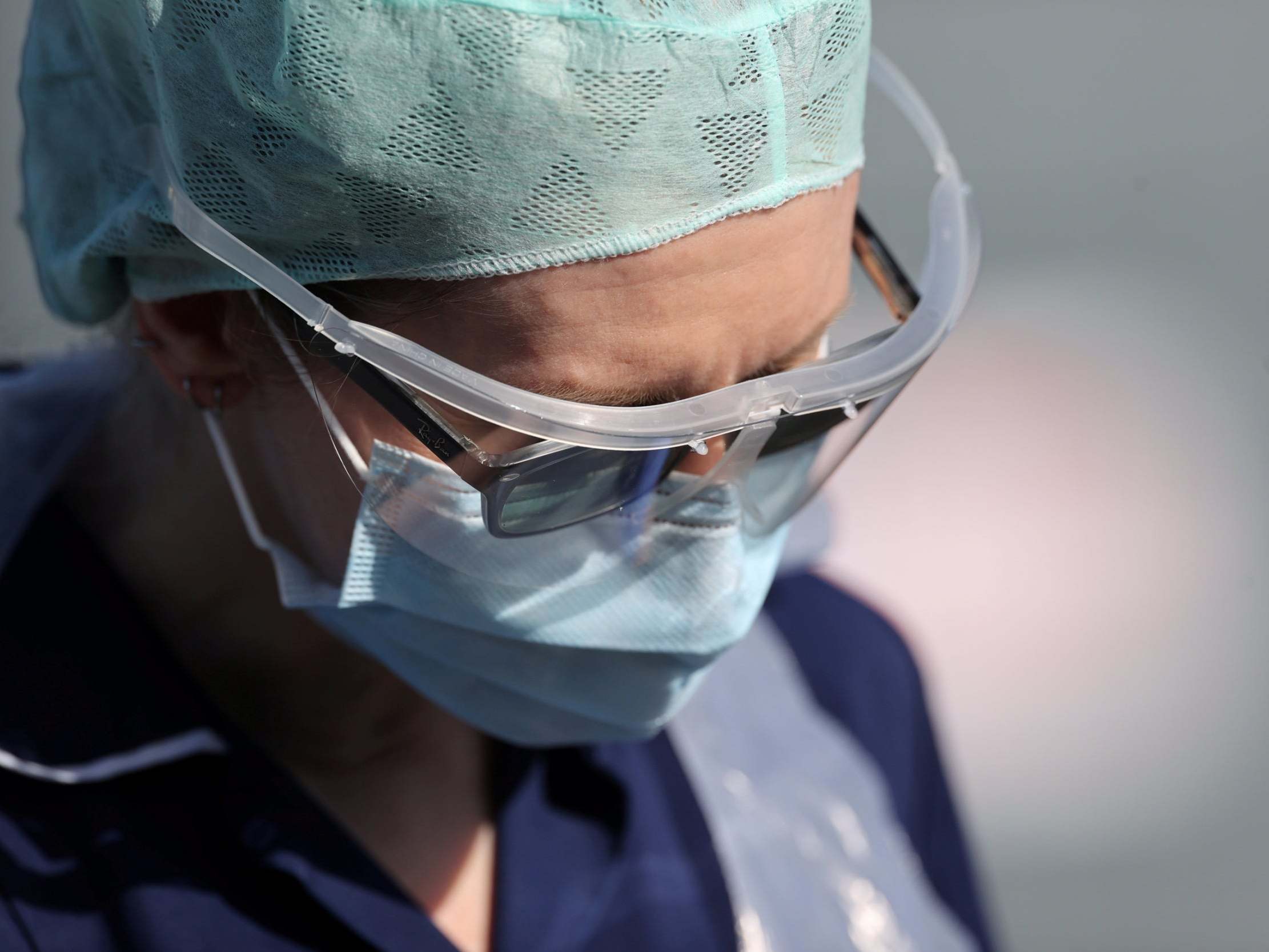 Three nurses have died after contracting coronavirus while fighting on the front lines of the crisis, it has been confirmed.
The nurses were from Watford, Worcestershire and Wales and all were confirmed to have died on Saturday. They join dozens of NHS staff thought to have died after testing positive for Covid-19.
Sara Trollope, a matron for Older Adult Mental Health Services in Hillingdon, died at Watford General Hospital.
She was described by colleagues as "kind and selfless" and will be missed her husband Gary, daughters Gemma and Freya, and twin sons Kyle and Michael, said the Central and North West London Foundation Trust.
According to Worcestershire Acute Hospitals Trust, 52-year-old Julie Omar was self-isolating prior to her death.
Matthew Hopkins, chief executive of Worcestershire Acute Hospitals Trust, said in a video on Twitter: "Julie was a dedicated and highly experienced trauma and orthopaedics nurse and very many of you will know her because she worked in both Redditch and Worcester.
"I know this news will have a profound impact on many of you, not least because it brings the tragic consequences of this outbreak even closer to home than it already was."
The death of a third nurse, Gareth Roberts, was confirmed by Cardiff and Value University Health Board.
The board said in a statement: "Gareth had been part of our nursing family since the 1980s and worked across our hospital sites.
"Gareth was well-known by everyone and was an extremely popular, fun-filled and well-liked person, always greeting everyone with 'Hello Cariad' when he saw them.
No hype, just the advice and analysis you need
"Staff say he was such a kind and helpful person, and that they learned so much from him. He had a lovely way with relatives and always offered the caring personal side, he was very much an 'old school' nurse."
Other NHS workers thought to have had their lives claimed by the coronavirus pandemic include:
A nurse based at St Cross Hospital in Rugby, who the trust is not identifying, died of suspected coronavirus.

Elsie Sazuze, a care home nurse who worked for Wolverhampton-based agency Totallycare, died this week.

Two porters, both married to nursing staff at the John Radcliffe Hospital Oxford, where they also worked, have died.

Liz Glanister, a nurse at Aintree University Hospital, died on Friday.

36-year-old nurse Areema Nasreen died on 2 April in intensive care at Walsall Manor Hospital in the west Midlands, where she had worked for 16 years.

Aimee O'Rourke, 29, was a nurse at the Queen Elizabeth The Queen Mother Hospital in Margate Kent. She died on 2 April.

Rebecca Mack, 29, died on Sunday after going into self-isolation with symptoms of Covid-19.

Donald Suelto, also died after going into self-isolation with coronavirus symptoms. He worked at Hammersmith Hospital in west London.

John Alagos, 27, a nurse at Watford General Hospital, reportedly died after a shift on Friday.

Nurse Alice Kit Tak Ong, 70, died on Tuesday.

54-year-old midwife Lynsay Coventry died on 2 April, said the Princess Alexandra Hospital in Harlow, Essex.

Healthcare support worker Janice Graham, 58, died on Monday in Scotland.

Healthcare assistant and father of seven, Thomas Harvey, 57, died at home on 29 March. He worked at Goodmayes Hospital in Ilford, east London.

Healthcare assistant Glen Corbin, 59, has also died. He worked at the Park Royal Centre for Mental Health in Harlesden, north-west London, for over 25 years.

Dr Habib Zaidi, 76, died in intensive care at Southend Hospital, Essex, on 25 March.

Ear, nose and throat consultant Amged El-Hawrani, who was with University Hospitals of Derby and Burton NHS Foundation Trust, died on 28 March at Glenfield Hospital, Leicester.

Dr Alda Saadu, 68, died on Monday at the Whittington Hospital in north London. He had returned to the front lines after retirement.

Transplant surgeon Adil El Tayar, 63, died on 25 March at West Middlesex University Hospital in west London.

Professor Sami Shousha, 79, died on 2 April. He worked at UK cancer research laboratories and Hammersmith and Charing Cross hospitals since 1978.

Consultant geriatrician Anton Sebastianpillai died on 4 April.

Consultant urologist Abdul Mabud Chowdhury, who wrote a Facebook post pleading with Boris Johnson to provide PPE to every NHS worker, died on Wednesday night.

Dr Edmond Adedeji, 62, worked as a locus registrar in the emergency department of Great Western Hospital in Swindon, Wiltshire. He died on 8 April.

Associate specialist in cardio-thoracic surgery, Jitendra Rathos, died on Monday morning.

GP Fayez Ayache, 76, died in Ipswich Hospital on 8 April.

Syed Haider, a family GP who worked in Dagenham, east London, died in hospital on Monday.

Barbara Moore, 54, was a patient discharge planner. She died on Monday, said the Liverpool University Hospitals NHS Foundation Trust.
Additional reporting by agencies